New Board Member Workshops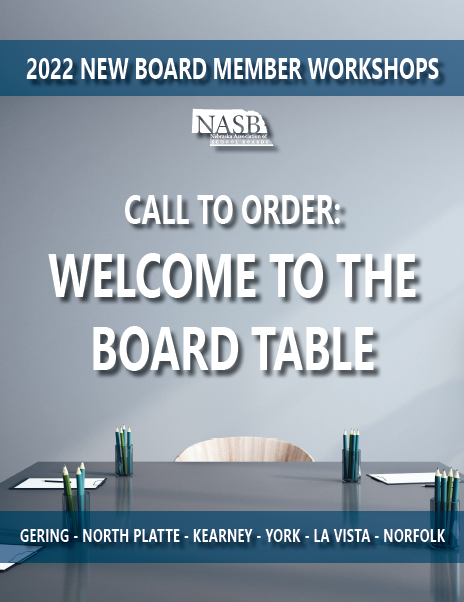 Every even year following November elections, NASB conducts regional New Board Member Workshops across Nebraska designed for newly elected school board members, as well as current board members; experienced board members; mid-term appointed board members; and Superintendents/ESU Administrators.
2022-23 New Board Member WorkshopS
December 5, 2022 - Gering
December 6, 2022 - North Platte
December 7, 2022 - Kearney
December 13, 2022 - La Vista
December 14, 2022 - Norfolk
December 19, 2022 - York


February 8, 2023 - Virtual Webinar
Suggested Audience
Newly elected or recently appointed school or ESU board members, experienced board members, Superintendents, and ESU Administrators. Prospective board members can be entered at any time in the database as a "Board Member Elect"
---
2022 In-Person Agenda
8:30 AM - Welcome & Table Introductions
8:45 AM - Open Meetings Law
9:55 AM - Mission, Goals, and Policy
10:15 AM - Communication - Parent Engagement
10:35 AM - Student Achievement
11:30 AM - Lunch
12:10 PM - Advocacy
12:40 PM - Budget & School Finance
1:30 PM - Board Meeting Protocols & Board-Superintendent Relations
3:00 PM - NASB Events & Learning Workshops
3:10 PM - Adjourn
THIS WILL BE AN INTERACTIVE WORK SESSION FOR NEWLY ELECTED BOARD MEMBERS COVERING BOARD GOVERNANCE ROLES AND RESPONSIBILITIES AND MORE. THE SESSION ALSO PROVIDES A GREAT REVIEW FOR THOSE WHO HAVE EXPERIENCE ON THE BOARD.
---
TO REGISTER FOR AN NASB EVENT, CLICK ON THE ' MY MEMBERSHIP' LINK ABOVE OR BELOW, THEN NAVIGATE TO THE 'EVENTS' DROPDOWN AND SELECT 'REGISTER'. TO LEARN MORE ABOUT AN EVENT, CLICK THE LINK IN THE MENU ON THE RIGHT.