Area Membership Meetings
Leadership - Training - Recognition - Networking - Vision

Vision: Engaged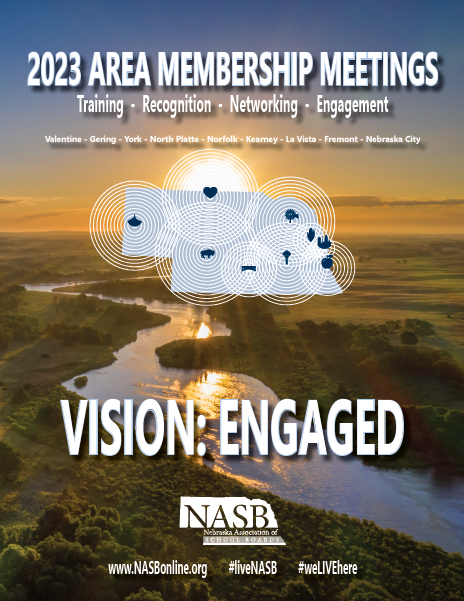 2023 Area Membership Meetings
August 22 - Valentine (High School/Peppermill)
August 23 - Gering (Gering Civic Center)
August 24 - York (Holthus Center)
August 29 - North Platte (High School)
September 6 - Norfolk (Lifelong Learning Center)
September 13 - Kearney (Younes South)
September 19 - La Vista (Embassy Suites)
September 20 - Fremont (Middle School/Country Club)
September 27 - Nebraska City (High School/Table Creek)

All Dates & Locations Tentative & Subject to Change
AGENDA
4:30 PM - Registration, Networking & Exhibitors
5:00 PM - Opening Session
5:35 PM - Break & Exhibitors
5:50 PM - Training Sessions #1
6:30 PM - Break & Exhibitors
6:40 PM - Training Sessions #2
7:25 PM - Networking Dinner & Awards/Recognition
15 awards of achievement points will be earned for attending
---
2023 Vision & Training Sessions
5:00 PM - Vision: Engaged
A Preview of the 2023 NASB Delegate Assembly, Program Review, and the Open Meetings Law.
***NEW ... NAEP (Nebraska Administrative Education Professionals) members will be provided with targeted peer discussion time, portal review, and NASB assistance in addition to access to the Training Sessions.***

5:50 PM - Training Sessions 1
This Year, Everything but the Kitchen Sink ... Bringing all the policy news that fits on Option and Part Time Enrollments, Youth Organization Access, Superintendent Pay Limits, Public Comment, Limited Class Removals and Suspensions, Student Discipline Hearings, and "Dyslexai" Data. I may need AI for all this, too. - Jim Luebbe, Director of Policy Services

Effectively Engaging Your Community ... A most challenging, yet vital role of the Board is to gather stakeholder/community direction on issues related to students, the learning environment, teacher retention, and academic success. To prepare board members to be the drivers of engagement, this session will cover public comment, and engagement of internal and external stakeholders to support the district's vision and goals. - Kari Stephens & Caden Frank, Board Leadership Associates

Board Governance Essentials ... The Board's role and responsibilities stay the same, circumstances always change. Join us to discuss Board Member basics and questions & answers on a variety of topics. - Marcia Herring, Director of Board Leadership & Shari Becker, Director of Education Leadership Search Service


6:40 PM - Training Sessions 2

Christmas Came Early: A look at the presents & Coal the legislature left us this year ... An unprecedented session led to the creation of large "Christmas Tree" bills which encompassed over 20 additional changes to the law, hung on as ornaments. From school discipline to teacher shortages, from Boy Scouts to Option Enrollment, come learn about the bills made up this tree and how they impact you. - Colby Coash, Associate E.D./Director of Government Relations

ALICAP's School Safety Pooling ... Who says insurance can't be fun?! In this session, Megan will cover (no pun intended) pooling basics, recent claims activity in Nebraska schools, and the importance of school safety in 2023. Insurance for the school is a necessity, but how can school leaders best position their district for success this year?! - Megan Boldt, Associate E.D./Director of ALICAP/Insurance

It's That Time of Year! ... It seems to always sneak up on us, that time of year for the annual superintendent evaluation. Or the board recently hired a new superintendent, is it time for a change? How can a new evaluation tool improve the experience, does the board encourage a superintendent self-assessment, do all board members participate, does the board's process include goals to support professional growth? Join us in this session to discuss the importance of superintendent evaluation and the value of a board self-assessment to support the effective leadership of the superintendent and board. - Marcia Herring, Director of Board Leadership & Katie Corfield, Board Leadership Associate
---
TO REGISTER FOR AN NASB EVENT, CLICK ON THE ' MY MEMBERSHIP' LINK ABOVE OR BELOW, THEN NAVIGATE TO THE 'EVENTS' DROPDOWN AND SELECT 'REGISTER'. TO LEARN MORE ABOUT AN EVENT, CLICK THE LINK IN THE MENU ON THE RIGHT.