School Leaders & Law Conference
June 14-15, 2023 - Kearney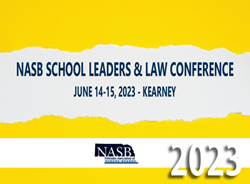 Wednesday, June 14, 2023 Activities
NASB Member Golf Outing - Kearney Country Club

Includes lunch provided by ALICAP

6:30 to 11:00 PM - Networking Reception & Hospitality Suite - Younes South Conference Center

Join us for an evening of networking that will include prizes from the golf outing, a light dinner buffet, live music, and a hospitality suite.
Thursday, June 15, 2023
8:30 AM - Registration & Conference
9:00 AM - Know Your Role… the School Board as Judge & Jury (David Kramer - Baird Holm & Megan Neiles-Brasch - Omaha Public Schools)
10:00 AM - Break
10:30 AM - A Breakouts

A1 - The Open Meetings Act: Be Open-Minded about Closed Session (Karen Haase, Coady Pruett, & Steve Williams - KSB School Law)
A2 - Checking the Pulse of Your District & Stakeholder Engagement (Kari Stephens - NASB)
A3 - School Liability – Everything from Discrimination Claims to Workplace Injuries (Perry Law Firm)

11:15 AM - Break
11:45 AM - B Breakouts

B1 - Civility in Governance (David Kramer - Baird Holm)
B2 - It's Not Just What You do … It's How You Do It (John Spatz & Marcia Herring - NASB)
B3 - Don't Get (Parent) Rights Wrong - (Karen Haase, Coady Pruett, & Steve Williams - KSB School Law)

12:30 PM - Lunch
1:15 PM - C Breakouts

C1 - Slow as molasses in January … And Feb, and Mar, and Apr, and May, and June. What the Legislature was finally able to get done in a sticky situation (Colby Coash - NASB)
C2 - Best Practices in School Safety & Security (Jay Martin - NDE)

2:00 PM - Break
2:15 PM - Closing General Session - Hot Legal Topics (Nebraska Council of School Attorneys)
3:15 PM - Adjourn
CLE credits pending approval for attorneys attending the seminar
15 awards of achievement points will be earned for attending
---
TO REGISTER FOR AN NASB EVENT, CLICK ON THE ' MY MEMBERSHIP' LINK ABOVE OR BELOW, THEN NAVIGATE TO THE 'EVENTS' DROPDOWN AND SELECT 'REGISTER'. TO LEARN MORE ABOUT AN EVENT, CLICK THE LINK IN THE MENU ON THE RIGHT.